This piece was originally written in 2008 and 2009, and then finally published in early 2010. I am republishing it here with slight revisions, videos, and photos. Much has happened in the last six years with respect to Detroit hip hop. Even more has happened in my thinking on Detroit music. I am currently writing a book on Detroit music after Motown that revises many of the perspectives here and, of course, many of the artists here have gone on to do new, exciting things. That said, I am still proud of the work I did here, especially my showcasing the incredible work done by many authors over so many years. A Works Cited is at the end of the piece. I strongly encourage further reading and listening. I also recommend reading Grandison, Veronica. "Game not over: New beats flow in Detroit hip hop scene," Model D., 10 September 2013., to get up-to-date, as best as one can, on tha D.
2020 Update: I have deleted a number of dead Youtube hyperlinks. That said, I have made not attempted to  update this piece since 2014. It now stands as a time piece. 
"Welcome to tha D.": Making and Remaking Hip Hop Culture in Post-Motown Detroit
If Detroit had not existed, hip hop's first generation in Manhattan and the Bronx would have to have invented it. Musically Detroit has had tremendous influence on the sound of hip hop, including the 1960's soul sound of record labels like Motown, the 1970s funk provided by artists like George Clinton and his Parliament-Funkadelic, and the 1980s proto-techno acts like Juan Atkins' work in the groups Cybotron and later Model 500. Detroit's wider cultural legacy has also greatly influenced hip hop since its early days, especially in its subject matter and through the wide dissemination of books by Detroit's pimp-turned-novelist Donald Goines. This is not to mention the influence of Detroit as a spectacle of post-World War II industrial demise and social meltdown caused by joblessness, drugs, and structural racism. This latter influence has come out most notably in Barry Michael Copper's screenplay for the 1991 hip hop stylized film New Jack City which was largely based on 1980s Detroit famous crack dealers The Chambers Brothers and, of course, Eminem's semi-autobiographical film 8 Mile in 2003.
Despite these, and many other Detroit-based influences, hip hop itself did not start in Detroit. Moreover, Detroit was relatively slow in picking up on the genre of rap as its favored musical interest so Detroit had a long period before it established its own, locally popular, rap scene. Despite ephemeral rap music singles and albums going back into the early and mid-1980s, rap did not dominate Detroit's airwaves or clubs until the late 1990s, even though Detroit had a sizeable African American market and major hip hop artists toured the region since the early 1980s. Instead, Detroit's early appreciation of hip hop music focused on the electro sound of New York labels such as Tommy Boy, which featured artists like Afrika Bambaataa & The Soulsonic Force. This electro music—based on reoccurring synthesizer vamps, pounding bass beats, short snare claps, and cymbal-like crashes provided by drum machines, like the Roland 808—had far more influence initially on Detroit ears then early rap. It would take years of dissemination and incubation before the Detroit area could offer its own version of rap music tied to an organic hip hop movement within its neighborhoods. When Detroit hip hop finally did reach a critical mass in the early 1990s, the impact would be felt around the world, with groundbreaking acts like Esham, Boss, Jay Dee, Slum Village, and Eminem proving that the city was not just living in its musical past but charting out hip hop's future.
1980-1984
In 1980, just a year after Sugarhill Gang's "Rapper's Delight" became a national hit, New Yorker Duane "Spyder D." Hughes co-wrote and performed the song "Big Apple Rappin'" for a new record label started by his Mother, Doris Hughes while attending college in Michigan. (The record was re-released in 2006 as the title-track on a double-disc archival compilation by England's Soul Jazz Records.) The track, a ten minutes plus, funky, synthesizer filled tourist brochure, mentions New York City landmarks, neighborhoods, DJs, and MCs, as well as the Big Apple's proclivities for crime and fun. Ironically though the track featured former Motown bass player Billy "Motley" Wilson, current head of the Motown Alumni Association, and the label was named Newtroit. Eventually Spyder D. would hop from label to label throughout the 1980s, and Newtroit would release only one record. This little-told story of "Big Apple Rappin'" illustrates a major negative factor working against early Detroit rap music: the lack of a nationally significant record industry presence, a deficit began by Motown Records' departure in 1972. Despite the high quality of the musicians still available in the former Motown the evisceration of the indigenous hit-making infrastructure, so famous throughout the world in the 1960s, made something like Spyder D.'s career untenable in Detroit. Returning to New York City created the possibility of a major record deal.
Detroit's dearth of popular rap artists though did not stop the ascendance, through radio, of a new style of DJing influenced by hip hop. Detroit audience's focus on the dance music sound emerging in early hip hop from New York, Los Angeles and, later, Miami, was greatly stimulated by two major radio forces: The Electrifying Mojo and The Wizard. Charles "Electrifying Mojo" Johnson ruled Detroit's airwaves in the late 1970s and early 1980s on the radio station WJLB. Mojo, with his deep, spectral-sounding voice and studio effects, famously encouraged listeners to help him land the Mothership (a direct allusion to the fantasies of Detroit's famous funk band Parliament-Funkadelic) by shining flashlights out their bedroom windows and blinking the lights on their cars. While that was occurring, Mojo would play an all-embracing set list that could range from soul music to classic rock to early local electro within minutes. Only a few years after making the transition to the FM dial in 1979 Mojo had a competitor in Jeff "The Wizard" Mills. Hired in the mid-1980s by WJLB's FM competitor WDRQ, The Wizard went head-to-head with Mojo but not by talking. Instead, the then teenage Mills brought a new hip hop style out of local clubs and cabarets to the studios of WDRQ and then later in the '80s at WJLB after Mojo had left. This fast-paced mixing style, in which Mills would mix individual records together for only seconds, as opposed to minutes, before throwing them aggressively onto the DJ-booth floor, quickly became legendary. Using multiple turntables, drum machines, 8-track effects, as well as other sound-recording equipment, Mills created a robust sonic collage that highlighted the slick, percussion heavy, technologically advanced sounds of early hip hop music. Before radio stations had a format for hip hop music, mix-shows filled the vacuum, and Mills was the preeminent pioneer in Detroit.
Mojo and The Wizard were quintessential to bringing early hip hop records and DJ styles budding in New York to a mass audience in Detroit. From music producer Jay Dee and his progeny's soulful sampling in their underground rap songs, to the local dance-floor friendly ghettotech DJs with their emphasis on scratching records speeding by at 150 beats per minute, to Dabrye's synthesizer heavy laptop programming and its emphasis on distortion and off-kilter structures, many contemporary Detroit hip hop artists have drawn energy from the Mojo vs. Mills battles of the 1980s. The era eventually came to an end in the late 1980s and early 1990s as the pressures of media conglomeration brought Detroit's unruly musical mixing in line with national rap and R&B formats dictated from the coasts. But through the circulation of radio mixes and folklore, Mojo and Wizard's nimble skills and encyclopedic knowledge of Motown, rock, funk, electro and hip hop established the horizon for rhythmic creation in Detroit.
1984-1990
Because of the influence of young DJs like The Wizard, music at local parties and cabarets heavily favored electro artists and break-neck DJing. There were few would-be rappers and those that existed would have to appeal to local tastes in a place where the DJ was king. These early MCs, like Prince Vince and Merciless Amir, therefore had to find their audience not in the party scene but on different media outlets and on the streets, neighborhoods and basements of Detroit. One such place where rap music would be featured was on WGPR radio's TV affiliate, one of the oldest black-owned TV stations in the country. "The Scene," one of WGPR's most popular shows from 1975-1987, was Detroit's version of the nationally popular dance music show "Soul Train." "The Scene" with its host Nat Morris, later to be re-christened as "The New Dance Show" and hosted by R. J. Watkins, became a Detroit institution. Starting in the early 1980s, its theme song, "Flamethrower Rap," written by Felix & Jarvis and produced by now famous rock producer and former Detroiter Don Was, highlighted the show's openness to new music. According to local hip hop historian Khary Turner, in the 1980s the show also gave young Detroit rappers like Mark "Gallo" Legree and Woody Easter cameos, eventually inspiring a segment called "Rap-A-Dance" in which local rappers would battle. Though national acts that came through town could also be seen on the show, these "Rap-A-Dance" segments were the first televised images of locally based rap talent, providing a major inspiration. WGPR's radio station was also important in supporting early rap efforts with DJ Billy T's "The Rap Blast" and "Billy T's Basement Tapes," starting in the mid-1980s and extending into the early 1990s.
This generation of rappers, raised as "The Scene" spectators and Billy T. listeners but conscious of Detroit's fast-paced, bass-heavy tastes, that finally began to materialize in the late 1980s. For example Papa J. Smoove, who shared a record label with another local rap group, Rap Mafia, on Hittin' Home Records, peppered his rhymes about lyrically battling with the devil in the midst of an electro beat on "Keep Dancin" (1990). Similarly female rapper Smiley's "Smiley But Not Friendly" (1990) found her streaking her vocals on top of electronic drum rolls. The track was recorded for the Detroit-based label Bryant Records, headed by former studio musician Joel H. Bryant, and was remixed by The Wizard himself (see: Women Rappers). Rapper J. to the D.'s "Sack Chaser" (1990) included a slow version and fast mix from his album Living on the Edge that was distributed by Atlanta's independent Ichiban Records. The fast version barely allows enough time for the artist to level his disses against the "skeeze" who pursues him. These early rap artists came dance-ready with their hits and New York-styled deliveries. However a more street-oriented realism and slower, funkier approach was making permanent inroads with Detroit-area audiences.
After years of experiencing Reagan and Bush economic policies and drug war tactics, not to mention suffering through Detroit's own chaotic local budgeting, politics and police, audiences were primed for a tougher message. A group of local artists with a swagger in their style and rhymes offered Detroiters a funkier, more militant, visage. The aforementioned Prince Vince sampled P-Funk's hit "Flashlight" for his major label single "Gangster Funk" (1988) for Mercury records. Another group, Awesome Dre & the Hardcore Committee sampled "Pick Up the Pieces" by the funky Average White Band for its boasting rap on the signature cut on "You Can't Hold Me Back" (Bentley Records/Priority). Though sampling such an obvious funk standard at the time may not seem so revolutionary, the trench coats and sunglasses the front man Awesome Dre wore seemed very serious—as did the image of him holding two gang members hostage by gun point, Detroit's skyline behind him, on the cover of their 1988 album for the nationally distributed Los Angeles label Priority. And despite the obvious New York rap influences on label-mates E.Z. B and DJ Los, the rap group Kaos & Mystro transcended coastal influences through their political visibility in Detroit's larger community (see: Kaos & Mystro).
By the late 1980s, Detroit rap acts were finally articulating a larger culture of hip hop, with fashion styles, personal histories, lyrical flows and sonic inventions that reflected a deep commitment to hip hop as a complete lifestyle. Three of these rap artists, A.W.O.L., Detroit's Most Wanted and Esham, could be seen as tipping points that brought something different to Detroit hip hop that would have long-term effects (see: AWOL, Detroit's Most Wanted and Esham). Detroit hip-hop was finally a musical force to contend with regionally and was beginning to pique the interest of national audiences, helping a new generation of MCs and hip hop producers in Detroit to chart their own paths.
1991-1996
With full-length albums from Kaos & Mystro, E.Z. B. & DJ Los, Awesome Dre, J. to the D., Kid Rock, Esham, ICP, Smiley, A.W.O.L. and DMW in the late 1980s and early 1990s, it's clear that stylistically and culturally Detroit hip hop was finding its legs. Somehow, though, Detroit's first national success came north of 8 Mile—the long road that marks the city's northern boarder (see Landmarks: 8 Mile)—when Flint-native Eric "MC" Breed's funk-heavy song "Ain't No Future in Your Frontin'" (1991) became a national hit. Flint's denizens had caught many of the same hip hop bugs as Detroit and, as represented in films like Roger and Me (1989) by Michael Moore, had many of the same post-industrial difficulties as Detroit, the larger city an hour to the south. "That's Life" off of Breed's 1991's album MC Breed and DFC shouted out Flint over all other geographies ("I ain't speaking on Compton, LA, Detroit, NYC/Man I'm talking about Flint."). But Breed's stylistic focus on creating a hybrid Flint rap sound would die hard as he began to work with West Coast and Southern rappers in the 1990s. Breed's deepest commitment musically was former Detroiter George Clinton who Breed sampled throughout his career and worked with on the commercially successful Funkafied (1994). Breed brought the Midwest and, indirectly, Detroit to a national stage, performed and rapped with some of the biggest names in hip hop, and despite leaving the area for significant portions of his career, held down the funk in the region's sonic heritage. The 37 year-old rapper died in November of 2008 of kidney failure. (Caramanica)
One possible explanation why Flint had a rap hit before Detroit was that dance music genres like techno and house were being sought after from Detroit—not rap. In 1988 Techno!: The New Dance Sound from Detroit on England's Virgin Records was released. The English had picked up techno fever through clubs like Manchester's Hacienda where mid-1980s Detroit dance tracks, soon to be marketed as techno, kept an ecstatic dance scene humming. Internationally, journalists of this "new" dance music accepted a distinction between techno and rap in Detroit, despite the fact that both genres, at least in Detroit, took initial cues from DJs like the Electrifying Mojo. What was an aesthetic distinction in Europe, though, had a lot to do with class distinctions in Detroit. Some flyers from early techno dance events had explicitly banned "jits," a derogatory term for undesirable elements from Detroit's black working class youth. Of course, these same supposed undesirables were some of the same youth that turned to hip hop. But at local dance clubs like the famous Music Institute in downtown Detroit, founded by Detroit disco and house-lovers and DJed by the likes of techno producer Derrick May, this classist stance against hip hop culture spilled on to the dance floor: no rap was tolerated.
If international consumption patterns and local class tensions were not enough, the white DJ turned MC Kid Rock, one of the first rappers from Detroit to sign a national record label deal, had his career derailed in the backlash over white rapper Vanilla Ice. The Dallas native had famously lied about his background, destroying his credibility, and putting a cloud over any white rapper's claims to hip hop authenticity. The result for Detroit's Kid Rock was the muting of his early major label success and the splitting up of his own local crew. He would only re-emerge in the late 1990s after revamping his sound and performing on MTV shows, linking his career with the rise of "rap-rock" groups like Limp Bizkit (see: The Blackman). For the rest of the scene, a well-documented collapse of national rap tours at the time made it difficult for even larger local groups to get any national coverage. Record label buy-outs and shutdowns inspired by corporate conglomeration and the tightening of the airwaves due to the rise of companies like Clear Channel, would virtually guarantee that "regional" hip hop artists would not surface successfully until the late 1990s.
If Detroit artists were going to succeed, they would have to define success on their own terms. There were multiple strategies. Some artists like Kid Rock and Boss picked up and left in order to pursue coastal opportunities (see: The Blackman and Boss). Others responded by gathering around Maurice Malone's early 1990s nomadic hip hop party, the Rhythm Kitchen, which finally settled at The Hip Hop Shop (see landmarks: The Hip Hop Shop). This "Golden Age" community, which included a poetry scene (see sidebar: Spectacles), provided a place where local MCs could develop their skills with a small but dedicated audience inspired by the global explosion of hip hop culture. While these scenes were predominantly black, the culture, from B-Boying to beats, crossed over at places like Alvin's, a club near Wayne State University, with its Family Funktion Wednesdays. Featuring DJs Ron "Papa Ron" Olson, Brian Gillespie, Alvin "Munk" Hill and Jim Stone, the night of diverse musical sounds, from Acid Jazz to hip hop, started off as a one-off record release party in the spring of 1995; by popular demand the night did not end until almost three years later. Family Funktion, unlike the Music Institute, mixed genres bringing a diverse group of music lovers—black, white, gay and straight—together. According to co-founder Stone, "Everyone was hungry for something new and different."
These venues would eventually produce many of the artists now considered to represent Detroit hip hop, from Slum Village to Eminem. But this underground scene, convinced of its own authenticity and largely shut out from larger corporate opportunities on national labels or even local radio, was largely invisible and impenetrable to outsiders. The result was that even at its creative height in the mid-1990s, Detroit's underground could not make either Eminem's Infinite (1996) or Slum Village's Fantastic Vol. 1 (1997) hits outside its own environs. Instead, another even more unlikely "underground" scene in Detroit was getting their group a major label deal and four straight gold and platinum records. Spurned by the local rap underground and ignored initially by national labels, Insane Clown Posse (ICP) chose to focus their attention on growing a loyal fan-base with obsessive local promotion, interactive high-energy stage-shows, and numerous giveaways and collectibles revolving around their Esham and Geto Boys inspired "horrorcore" sound. The loosely defined genre featured sexualized tales of murder and mayhem, most of them screamed by vile-mouthed, angry young men, over methodical, dirge-like production. Many in the Detroit area loved it. The result was an audience that at least in numbers was the envy of every rap group in Detroit.
1997-2006
While ICP and its diehard fans, called Juggalos, were expanding regionally and The Hip Hop Shop regulars were honing their skills locally, it was the Detroit mass's commitment to DJs and dance music exemplified by the genre that has come to be known as ghettotech that made for true crossover musical excitement in the mid-1990s (see: Landmarks: Ghettotech). But ghettotech by itself did not become commercially mainstream despite its infectious sound and its—at least local—crossover appeal. That would be left to artists like Eminem who were able to take advantage of shifts at the center of youth marketing. The late 1990s saw the rise of what PBS correspondent Douglas Rushkoff in the 2001 documentary Merchants of Cool called the "mooks" and the "midriffs" as marketing terms in the wars over teenage dollars. The midriffs stereotype was provided by Brittney Spears and Christina Aguilera while the "mooks" were modeled after characters on MTV's "Jackass" and "Tom Green Show." This moment fit well with three Detroit acts, all of which were represented in the Billboard Charts in the summer of 1999: Kid Rock, ICP and Eminem. The first two artists began to expand their audience in time to rise with artists like Limp Bizkit at the large, nationally televised Woodstock 1999 concerts. But it was Eminem's mushrooming popularity in 1999 that radically changed Detroit's hip hop scene. Using his newly found commercial success, Eminem shepherded certain local artists onto an international arena while his mere presence in the media spotlight reflected attention onto Detroit's wider culture, whether it wanted that attention or not (see: Eminem).
While Eminem's major label success starting in 1999 eventually provided opportunities for his closest compatriots, like the members of D-12, it was Jay Dee's rise as a top producer and master of the 1990's sampling technology that moved another set of more independently minded artists to national and international exposure (see: Jay Dee). Detroit-raised artists like Phat Kat (see: Phat Kat), Guilty Simpson, Frank 'n' Dank, Waajeed, Black Milk and others regularly cite Dilla, even after his death in 2006, as a source for beats and inspiration. A series of independent labels—though few Detroit-based—have released records by these rappers, including California's Look, Stones Throw, and Ubiquity. The result has been Detroit rap's continuing underground popularity around the country and world. In early 2006, Detroit hip hop writer, fan, and Renaissance Soul Blog writer, Kelly "K-Fresh" Frazier argued this very point stating in an article from Real Detroit Weekly, "Detroit hip-hop has got its foot in the door in all aspects of the game. We have major label, national independent, regional and local releases. Our artists have the ability to pack crowds locally, as well as sell out venues worldwide. Unfortunately, none of this is accomplished on a reasonably consistent basis, and our 'potential' is limitless." (Frazier, "Breakin' Records")
Beyond Hollywood films and still operating home studios, there has also been Detroit's developing as a major front in the struggle over hip hop politics. In Hip Hop Matters (2005), author S. Craig Watkins describes the campaign, election, and administration of Detroit Mayor Kwame Kilpatrick in 2002—Detroit's "hip hop Mayor"—as a case-study in the struggles over a post-Civil Rights agenda for those born in the age of hip hop. (187-192, 196-205) Kilpatrick, in his thirties, made Detroit youth a center of administration goals with his "Mayor's Time" initiative, a program designed to address and engage Detroit youth by providing activities to fill teens' potentially unstructured time after school. (197-199) Watkins saw Kilpatrick as a harbinger of a new, global as well as national, hip hop politics rooted in youth and community activism. In a little over ten years, from the mid-1990s production of Jay Dee to the mid-2000s with the world-conquering success of Eminem and rise of figures like Kilpatrick, Detroit had changed both the sonic landscape of hip hop and, for some, its politics.
ARIST PROFILES
Women Artists
Though the names that regularly surface in discussions of Detroit hip hop, from Awesome Dre to Eminem, are male, the scene has a noteworthy history of hip hop women. Local radio host Ms. Smiley's rap career only amounted to a smattering of locally-produced releases but what a career it was. Lynette "Smiley" Michaels's The Smile Gets Wild (Bryant Records 1989), which featured the local hit, "Smiley But Not Friendly," was produced by label-mate Duncan Hines of the group Detroit's Most Wanted at a time when that seminal group had only one single. With a co-production credit, remixes and radio play by The Wizard, the song, a response to 2 Live Crew's "Get It Girl," with its staccato-delivery from Smiley ("I got a friendly face with an out-cold attitude."), is remembered as one of the first local rap singles to have gotten any notice. An earlier single had been even more explicit in its proto-rap-feminist take: "I Don't Have 2 Sack 2 Collect." Another female MC from that time, Kalimah "Nikki D./ Eboni and Her Business" Johnson, is still in the scene as well. Johnson put out an early single as Nikki D. for Urban Suburban called "Work that Sucka" that got enough buzz for Johnson to be the opening act for artists like Public Enemy and Boogie Down Productions when they played in Detroit. But her career went south when a name dispute with another Nikki D. forced her to change her name. Then her album for World One Records, the same label that put out Kaos & Mystro's full-length, garnered little attention. She rejoined the scene in the late 1990s when poetry was bubbling up in Detroit coffee houses and has recently hosted an open mic night in downtown Detroit.
Just a few years later Smiley's sassiness would look like child's play. Lichelle "Boss" Laws is the only Detroit artist featured in Tricia Rose's seminal hip hop book, Black Noise (1994). It was Boss's song "Recipe for a Hoe" from Born Gangstaz (Def Jam/Rush 1993), which sampled and teased the Geto Boys "You Gotta Let a Ho Be a Ho," that gave Rose pause because of the tune's lyrical "revenge fantasies" against misogynistic men. The album, in a similar vein, sported images of women with shotguns on the cover; perhaps this was not Rose's idea of positive feminist rap. But for Detroiter's there was more than just feminist politics at stake. Boss, along with her DJ, Irene "Dee" Moore, struggled but eventually signed with a major label, got three videos produced for their album, and worked with major artists, like Erick Sermon and MC Serch. She showed that someone from Detroit could make it—that Detroit had a hip hop community worth paying attention to. A product of Detroit Catholic Schools and community rap youth programs, Boss made her debut as "Lady the Boss" on the Knowledge is Power (1990) local rap compilation put out by Ton Def, a label run by R.J. Rice (former manager of Slum Village and now head of Barak Records) and Jewel Silas. But it was Boss's move to New York and years in L.A. that precipitated being signed by Def Jam, a deal that brought Boss a number one rap single with "Deeper" (1993). Boss eventually asked to be dropped from Def Jam and moved to Texas where she was radio host in the late 1990s. Further professional and medical problems—she had to have a kidney transplant—stalled Boss's career. Laws resurfaced in 2007 as a rapper on a verse for "Detroit Stand Up," a track and video set up by Esham to unite West Side and East Side rappers with artists like Big Herk, Al Nuke, and Proof, amongst others. Her flow, as well as her dark sunglasses in the video, were still intact.
The year after Boss's full-length release, female vocalist and Detroit-raised Aaliyah, who died in a plane crash in 2001, made her MTV debut with her street-savvy R&B song, "Age Ain't Nothing But a Number." In a move for local authenticity, the video featured Proof and others wearing Hip Hop Shop t-shirts. At the same time, Kori "BombShell" Blake was having a local hit with "What You Gonna Do? (You Can't Get Wit The BombShell)" produced by techno producer Anthony Shakir. Though her career did not take off, she had a revival with her album Rhapsody (2007).
Though Detroit's hip hop scene stayed underground in the 1990s, when it finally surfaced nationally women came with it. 8 Mile (2002) showed off a number of local residents and artists in short cameos but only a few got to freestyle in the same space as Eminem during the shoots. One of them was Miz Korona, who is seen rap battling Xzibit in the film. Formerly known as Pimpette before changing her performance name to Korona, she bubbled in the local open-mic scene in the late 1990s and early 2000s before stepping out in the film.
As for the future of Detroit women in hip hop, there is Invincible, an artist who mentions feminist-critic Audre Lorde and Detroit's own militant techno group Underground Resistance on her Myspace page. She has only recently released a full-length LP but has already had a career that goes back to the late 1990s when she lived in New York City and hooked up with an all-female hip hop crew called Anomolies. In Detroit she dropped some verses on Paradime's "Paragraphs" 12" (Federation 1999). It was her writing for MTV's lyricist lounge, though, and a guest appearance on a Rawkus Records compilation from 2000 that hinted at a long-term career. In the past few years, she has rapped on the Plantinum Pied Pipers' album Triple P (Ubiquity 2005), two songs on Dabrye's Two/Three (Ghostly International 2006) and two more on Waajeed's The War LP (2007). The last project included a blistering "Place Where We Dwell," an insightful rap introduction to Detroit politics, personalities, and concerns, with high-hat cymbals lifted from Led Zeppelin's "Rock & Roll." Her first solo album, Shapeshifters, was released on Bling47 in June 2008.
Kaos & Mystro
Jason "Mystro" Wilson and Teferi (DonRico) "Kaos" Brent (born May 7, 1971) performed on one of the most sonically complex and politically daring albums in Detroit's early hip hop history, Outcast Vol. 1 (World One Records 1989), channeling black nationalist politics through fast-paced beats as Kaos & Mystro. Their short career reveals a complicated relationship between the ascending hip hop culture and Detroit's pre-existing sonic and political mix.
In an interview, Brent described his and the group's musical history. Brent moved around the city a lot as a kid, spending time on the West Side before finding his way to Highland Park, a city surrounded by Detroit, where he met up with Wilson. Despite having parents with solid blue-collar jobs behind him, Brent was not immune from hanging in Detroit's neighborhood gangs, both on Detroit's West Side and Highland Park. Fighting and getting in trouble were his modus operandi and it was enough of a problem that Brent was kicked out of a private school and forced to attend Highland Park High. It was not just gangs that were grabbing his interest. Brent was the of the generation that bought Sugar Hill Gangs's "Rapper's Delight" when it first came out and attended the "Fresh Fest" with their early Def Jam lineups in the early 1980s. He rapped all night in his complex, the Gabrielle Houses, with local groups like the Food Stamp Boys and with people like Amery "Big Herk" Dennard in Wilson's basement.
Rap was not a career idea for Brent until some older economic players stepped into the picture. Here the influence of P-Funk and Motown on Detroit hip hop is critical to understanding Kaos and Mystro's early successes as well as the context of many early rap recordings in the city. According to Brent, the group was discovered by John Maxey, a relative brother of "Ivory" Joe Hunter (a pianist for the Motown house band in the 1960s called the Funk Brothers), and a band manager for R&B groups in the 1960s and '70s in his own right. Maxey was a special education teacher at the time at Brent's high school. Maxey's partners included Carl "Butch" Small. In the late 1970s and early 1980s, Small had been a percussionist for the P-Funk affiliated Sweat Band and Parlet, as well as Robert Troutman's Zapp. According to Brent, Small could hear that ghetto-funk, an updated version of the P-Funk sound sampled for the rap generation, was becoming popular in the late 1980s and saw an opportunity to capitalize. "They were opportunists," Brent said. "They had the skills and the resources." Though Small would later work for Death Row Records, his rap production career began with the West side-based World One Records, a studio that came out of Proving Ground Records, a project he had set up with other P-Funksters but had only released one single in 1987. For World One, Small, along with his other partner Gene David, had already put out Untouchable (1988) by E. Z. B. and DJ Los (Small's son) when Maxey hooked Brent and Wilson up with the fledgling label.
Production and label management from an older generation was not the only influence in Kaos & Mystro's career. Another was Dr. Errol Henderson who at the time worked with SOSAD (Save Our Sons and Daughters) to help mothers in their grieving process when they had lost their children to violence in the city. Brent met Henderson when Brent's mother took him to one of SOSAD's meetings and Brent rapped a song about black history. Henderson, who is now a political science professor, had a rap group himself and was part of getting Africana Studies started first at the University of Michigan and then at Wayne State University. His Afro-centric politics inspired Kaos & Mystro's lyrics and look. "He engaged and educated many of us politically in the early 1990s." The other force was Reverend Wendell Anthony of Fellowship Chapel Church. The Reverend radically changed Brent's life. "We were all street babies until we heard Anthony preaching Jesus the way he did." The head of the local branch of the NAACP since 1993 and the pastor for long-time Detroit rapper Proof's funeral in 2006, Rev. Anthony mixed Civil Rights politics with hip hop in the process gaining respect in the youth community.
It was Rev. Anthony that set up Kaos & Mystro with an opening slot at Tiger Stadium to perform as an opening act for South African freedom fighter Nelson Mandela in June of 1990 in front of 49,000 people. Brent remembers rocking the crowd and even giving shout-outs to Detroit's own political prisoners, including former Detroit Black Panther Ahmad Rahman, now a political science professor at University of Michigan-Dearborn. These influences, one from funk, another steeped in Afro-centrism and another in the church, helped crystallize the Kaos & Mystro style. Brent calls it, "Christianity with a nationalist flavor."
Outcast Vol. 1, the group's only full-length album, finds Kaos & Mystro, mixing samples of peers like Chuck D. of Public Enemy (who had family in Detroit at the time and knew Kaos & Mystro), and heroes like Malcolm X, with uptempo drum machine patterns. The cover features Brent in a Pistons basketball jacket and Wilson in a Kente-cloth outfit designed by the duo. "Mystro on the Flex," one of the key songs from the album, foregrounded Wilson's turntable skills and with the help of then high-quality videos became a local hit. But the focus of the music was on Brent's conscious delivery and up-from-the-streets revolutionary ideology. Though Brent did end up at Maurice Malone's early Rhythm Kitchen shows at Stanley's Chinese Restaurant that would end up inspiring The Hip Hop Shop (see landmarks: The Hip Hop Shop), his political orientation was different from the more secular approach to flow offered by the Rhythm Kitchen. Brent would leave World One Records for Joel Bryant's Push Play Records for one solo record, Doin Time On Earth, before going back to college. His last rap project was The Foundation, a group that featured Brent as one of four MCs produced by Anthony "Ant-Live" Singleton, a rapper who at one point flirted with major-labels in the early 1990s. According to Brent, internal differences stopped the recordings from seeing the light of day. He is presently completing his MBA while working as a supervisor at Chrysler. He plans on getting his masters in divinity as well and eventually entering the seminary. Wilson, now known as J. "Maji" Wilson, has formed Yunion a "hip-hop ministry" with an extensive online article archive with advice, according to the Web site, for "the troubled youth of America."
The Blackman
James "The Blackman" Harris (born May 20, 1965) still resides in Donald Goines' and Henry Ford's Highland Park, owning with his wife The Black Whole, an African culture shop on Woodward Avenue, where he throws house parties in the basement. In an interview he described his career in Detroit and in music. An auto-worker's son, Harris grew up middle-class on Detroit's East Side, starting to DJ as a young kid in the 1970s as well as playing around with reel-to-reel tape machines, eight-track players and belt-driven turntables. Harris, a disco fan in the 1970s, remembers hearing rap for the first time on tracks like King Tim III's rapping over the Fatback Band on Spring Records in 1979 and "The Bumble Bee Rap" off of the disco label Salsoul Records in 1981. But, according to the Blackman, Detroit at that time was into the fast-paced, drum-machine driven electro sound from Los Angeles instead of the more disco-sounding early rap that he enjoyed from places like New York.
The Blackman bounced around a couple of East Side high schools before finishing at a vocational tech school in 1983 right around the time that New York rap act Run D.M.C. was about to partially break through Detroit's electro exterior with "Sucka MCs" and "It's like That." "Before that it [rap] was a novelty," Harris argues. "It was a big ass joke." But Harris had learned how to DJ from disco where seamless mixing was the thing and was never fascinated by The Wizard. "He went too fast—it really annoyed me." It was rap that gave Harris his break as a DJ for the Fresh 4 Crew, a young teen rap group made of twelve year old kids with connections to the promoter and a nineteen year old Harris. They played the Fresh Fest in 1984 at the Fox Theater. The Fresh Fest featured LL Cool J., Sparky D., Divine Sounds, Jeckyl and Hyde, Melle Mel and MC Shan amongst others. The group got to tour the Midwest, playing major cities in Ohio and Pennsylvania.
The increased cultural capital and connections from being one of the only Detroiters on stage was the most important by-product of the fest for The Blackman. He was already beginning to hang out with a group of twenty or so rappers and DJs that became the Beast Crew, a loosely tied group that would meet in his basement. The crew included artists that are still active, such as Brian "Champtown" Harmon and, eventually, Robert "Kid Rock" Ritchie (born January 17, 1971). In 1987, the Crew was doing a party out in Mt. Clemens at a cabaret and Kid Rock, according to the Blackman, "was a kid trying to get on. He just had a dream in his pocket." (Kid Rock talks nostalgically about this era in "I Wanna Go Back" on his The History of Rock album.) Kid Rock became a part of the crew and The Blackman became one of Kid Rock's street aficionados.
The Blackman became, in his words, the executive producer for Kid Rock's first full album, Grits Sandwiches For Breakfast (Zomba 1990). "I made sure it was street." He also maintained a level of irreverence that spawned tracks like "Yodellin' in the Valley," Kid Rock's oral ode to satisfying women orally. "We were just taking apart our influences and adding the stupid stuff we did everyday—stupid sayings we said everyday. It wasn't real thought out—make a beat, like a beat and talk over it." Harris joined Kid Rock in NYC to try to make it big, hanging out in Times Square before it got cleaned up. (See "New York's Not My Home" on Grit Sandwiches). They supported Too Short and Ice Cube on a big arena tour, playing 20,000-seaters every night. Harris remembers that it was not easy crossing Kid Rock over on those tours. "We sold it to America. Sometimes things would start with booing… later though there would be cheering." But conditions were changing quickly. Insurance companies stopped putting up money for big rap shows, killing arena tours for hip hop for almost a decade. At the same time Vanilla Ice made life hard for white rappers by lying about his background. Harris came off the tour for Grit Sandwiches and "stepped off." "It was going somewhere that I didn't need to be." According to Harris, "I would have been a real fast has-been. What Proof did for Eminem I wouldn't do for Kid Rock." Champtown would though becoming Kid Rock's hype-man in the mid-1990s by wearing a green Afro and being called "The Incredible Green-Headed Negro." In 1998, Kid Rock, after a long period of reinvention, this time without the Beast Crew behind him, re-emerged with his "Bawitdaba" from Devil Without a Cause, an MTV hit that gave him a second shot at fame. At the same time, The Blackman kept his hand in the local scene, DJing for Soul Clique, a group that also featured P-Funk member Duminie DePorres, and the rock band Detroit City Council. In 2006, Harris released a solo album, Collector's Edition, on Black Shu Records.
A.W.O.L.
A.W.O.L. (Afrocentric Wicked Old-School Lyricists) members Kevin "The Last Soulman" Johnson, Marqui "Boogie Mack" Vaughn, and Bennie "DJ Homicide" Herron (who was shot dead in 1996), released two full-length records, What It Be Like (Bryant 1993) and Detroit 4 Life (Boostrap/Rock-a-fella/I.N.D.I. 1994), during their time together. A reformed A.W.O.L., minus Herron, released two more in 2003 (Back 2 Tha Future) and 2005 (Life Sentence), before breaking up again. They released their first single, the fast-paced pimp-slap-style "You Don't Want None of This" in 1989 on Bryant Records. According to historian Khary Turner, it is impossible to disassociate A.W.O.L.'s sound from their visual style in their videos on "The Box" and on BET in the 1990s. They wore high fashion (Coogi sweaters and Dobb hats) with a Detroit nonchalance that was ahead of its time, even by New York standards. A fight over the name A.W.O.L. with a now unremembered label-mate of the now-famous Brooklyn rapper Jay Z., prompted Jay Z. to create Roc-a-Fella records (AWOL's label without the "k"). The struggle created unnecessary trouble for AWOL who were trying to break out of Detroit. Herron's involvement in a homicide and armed robbery though frustrated the successes that the group had built up during the 1990s. Despite this, the group's early influence was eventually honored: the local Detroit Hip Hop Awards gave a lifetime achievement award to the group in 2002.
Detroit's Most Wanted
Formed in 1986, Detroit's Most Wanted, led by '60s soul-singer Jackie Wilson's grandson "Motsi Ski," were the first to wear gangster suits in Detroit. According to Turner, during their career they name-checked local gangs, bragged about their own drug connections (financing for their pre-Bryant Records work, according to Turner, came through a local drug dealer), and competed with other local groups to make it big. The group—Reginald "Motsi Ski" Abrams, MC Lee, and DJ Duncan Hines—released a number of singles and albums in the 1990s starting with their Bryant Records single "I Save My Words 4 Wax" (1989) recorded at P-Funk's old stomping grounds, United Sound. They would eventually procure national distribution through Atlanta's Ichiban Records with Tricks of the Trade Volume 2 (1992). Their 1990 self-titled LP featured hardcore lyrics by Abrams and a funk-sampled feel spearheaded by Hines. "City of Boom" became a local hit from the album, with a 12" remix and a video, while another cut from the album, "Fenkell Strip" was important for its explicit call out to their West Side connections (Fenkell is "Five Mile" on Detroit's West Side). The group's career lasted three full-length records before conflict and opportunity broke the group up. Hines, who had produced for Detroit Boxx & Step 2, as well as other Bryant artists like Smiley, formed a group with Lee and went on to work with MC Hammer. Though it was a chance at major label exposure, it killed off the group's original feel as Abrams took the group and its sound down a g-funked path, creating a hollow version of Dr. Dre's West Coast sound. Abrams recorded two solo albums and formed a short-lived quartet which included Proof called the 4 Fathers. Lee rejoined Abrams for a couple of songs for the Tricks of the Trade reissue in 2004 and the original threesome reunited in 2006 to record but with little commercial success.
Esham
Another major Detroit rap artist has been Rashaam "Esham" Smith (born 1977). Jason Birchmeier's biography and album reviews, following the rappers career until the early 2000s, is the most sustained criticism on Esham, and provides the context for his inclusion here. Despite the solidness of Birchmeier's work, the relative paucity of commentary on Esham and his career is troublesome considering the length of that career, Esham's local influence on artists like I.C.P., Kid Rock and Eminem (not to mention those more closely related to his own camp, like Mastamind and T.N.T., that have made albums and performed with him as N.A.T.A.S. for years), and his deranged, yet highly creative, take on hip hop in the early 1990s. Looking back on Esham's early years—his first albums were made as a high school student on Detroit's East Side—it is hard not to see the rapper's stripped-down musical palate and sexually-charged, jack-the-ripper approach to lyrics as a prediction of the darkness that would creep into hip hop's heart during the 1990s. This darker turn in hip hop's content and character came to an international head when Eminem—who on his first full-length album described himself as cross between the New York rapper Nas, Black Sabbath lead singer Ozzy Ozbourne, and Esham—sold and offended millions with his terrifying, off-handed, cartoonish tales of murder and suicidal tendencies. Whether it is now called "hardcore rap," "horrorcore," "acid rap," "murdercore," or simply the end of Western civilization, for Detroiters it was, for better or worse, nothing new.
A transplant from Long Island, New York, to Detroit's East Side, the teenage Esham was stimulated by the lyrical flow of fellow-Long Island rappers Run DMC, the violent imagery (and samples) provided by Houston rappers the Geto Boys, and rock 'n' roll on his first album, Boomin Words From Hell (1990). The album, as Birchmeier points out, is "primitive," with few samples and bare bones instrumentation—bass, guitar, piano, and drum machine. Given the state of Detroit hip hop at the time though—and even national rap coming from the coasts—the album is a revelation, with Esham's L.L. Cool J. meets Freddy Kruger persona seemingly fully formed from the beginning. Though similar lyrically, Judgement Day Vol. 1 and Vol. 2, his 1992 releases, are sonically different, with a heavier use of rock samples that in retrospect seems to predict rock-rappers like Kid Rock years before they finally broke. The albums are sometimes cited as the first rap double-CD and are evidence—three studio length records in two years—of Esham's early energy and ambition.
It was during this period that Esham also began his work with N.A.T.A.S. or Nation [or Niggaz] Ahead of Time and Space. The group has put out seven albums over the years amidst Esham's solo work putting Esham's total LP output—not counting the various EPs, singles, and guest appearances—to twenty-three and counting. This unbelievable amount of rap hustling though did not lead to major label success until after over a decade of work. In 2000, after the success of Eminem, Esham began making a series of records for the major label T.V.T., a partnership that expanded Esham's audience somewhat but, as Birchmeier points out, did nothing to put him in the league of other Detroit successes. Commenting on one of Esham's TVT albums, Tongues (2001), which came out after Esham's high-profile work with fellow bizarre, sex-crazed lyricist Kool Keith, Birchmeier stated: "Yet if everyone was looking at Tongues as the album that would enable Esham to cross over to mainstream success, they were foolish. Tongues is too far out of the ordinary to cross over—creative, yes, but also odd."
"Creative, yes, but also odd," seems to sum up Esham's continuing career. Only a few years ago he was releasing records with I.C.P.'s Psychopathic Records but no longer. He is currently back releasing his own music on his own label. Though his delivery has seemed to mellow over the years, with recent songs like the new "World Hustle" encouraging dancing and the "stacking" of paper (making money), Esham still tends to trade between Halloween-style darkness and leering stripper tunes on his full-length releases. A semi-regular Podcast from his Web site, acidrap.com, features new releases and commentaries from the man himself.
Jay Dee and Slum Village
The recently deceased James "Jay Dee"/ "J. Dilla" Yancey (February 7, 1974-February 10, 2006) is already a legend. His shadow looms large over Detroit hip hop, his lyrics and production work still appearing ghostlike on tracks coming out of artists both new and old. Jay Dee learned to play multiple instruments as a child and was the son of a jazz musician and doo-wop singer. He also apprenticed with 1980s P-Funk instrumentalist, Joseph "Amp" Fiddler, who helped him master rap's "Golden Era" sampling and production equipment. But it was Jay Dee's own hard work weighted in basement tape experiments with early collaborators and his raw yet laid-back vocals inspired by his relationship with neighborhood peers that eventually birthed the talent that will be the measure for any future underground Detroit star.
Raised in the predominantly black neighborhood of Conant Gardens on Detroit's East Side, Yancey attended Pershing High School with Titus "Baatin" Glover and R. L. "T3" Altman in the late 1980s. The three friends' first group would be called Senepod, "dopeness" backwards, before changing their name to Slum Village. They were all Rhythm Kitchen attendees. Taking advantage of Maurice Malone's stylish social networking ideas, the crew flexed their skills, built a small but loyal fan base, and connected with eventual long-term compatriots, from Proof to House Shoes. But it would be Jay Dee's early work with Ronnie "Phat Kat" Cash that would cement the artist his first deal as a member of a group. The two artists met, as so many did in those days, at Malone's Rhythm Kitchen shows at Stanley's. The group, named 1st Down, would only release one record on the Payday label (see: Phat Kat).
The artistic breakthrough came with Slum Village's first album, Fan-Tas-Tic Vol. 1 (1996), which was made with home-studio samplers and synthesizers. The album was then made as a cassette that was sold for money to buy better technology to make more tapes. In the short-term, this early tape would only get a deal for Jay Dee. Slum Village would meet Q-Tip of A Tribe Called Quest at a local mall in 1994 resulting in Q-Tip becoming Jay Dee's manager. The connection allowed him to begin producing for national acts as well as join the Ummah production team with Q-Tip and Ali Shaheed Muhammad. But long-term, Slum's early experiments signaled that Detroit had finally been able to produce an organic classic without the explicit backing of a major studio, drug dealers, Civil Rights activists or religious leaders. Instead Slum Village was largely a product of its own initial investments in its own creativity brought forth by Detroit's own fertile musical landscape.
Slum Village's intervention into Detroit hip hop comes from the group's unadorned approach to hip hop production and their commitment to a backpacking aesthetic—an overt, historical focus on hip hop skills instead of searching for mainstream popularity—in the midst of a larger gangsta-rap revolution. Success would be delayed due to the corporate hip hop reshufflings of the mid-1990s despite a label deal with A&M in 1998. The result was that their "first" album, Fantastic Volume 2, would come out on Goodvibe in 2000, while their original first album would not be released officially until 2005. It is one of the major artistic crimes in the history of Detroit music making. Because of this debacle, Slum Village's sound with Jay Dee at the controls would be heard first through other acts, singles, and albums throughout the 1990s produced by Dilla. Whether it was the "vivrant" drum snaps on Q-Tip's Amplified as a member of the Ummah, the minimalist nu-soul of D'Angelo's Voodoo with the Soulquarians (which included The Roots' drummer-producer ?uestlove), or an early definitive release for Detroit Tda Pimp's "Looking Hard," Jay Dee was as deeply committed to the sonic messages encapsulated in Kraftwerk albums as he was by soul LPs and "donuts"—also known as 45s.
Jay Dee worked with the best of 1990s American hip hop, marking out a subtle and crisp, funky and sexy, approach to drum sounds and sampling that define that moment. Nineteen ninety-six was a key year with Jay Dee producing albums by A Tribe Called Quest (Beats Rhymes and Life), Busta Rhymes (The Coming), and Pharcyde (Labcabincalifornia), not to mention standout tracks by De La Soul ("Stakes is High"), and, again, Busta Rhymes ("Woo-Hah!"). At the same time, Dilla also had time for local production for 5-Elementz featuring Proof (The Album Time Forgot), as well as early solo compilation tracks for the maturing Proof. Up until the final months of his life, Jay Dee would continue to produce for some of the nation's best and brightest (including Janet Jackson, The Roots, Common, Erykah Badu, D'Angelo, Pete Rock, and Mos Def amongst many others) and Detroit's most ambitious (5-Elementz, Proof, Innerzone Orchestra, Bizarre, Tda Pimp, Royce Da 5'9", Big Tone, Frank N Dank, Amp Fiddler, Elzhi, Platinum Pied Pipers, Phat Kat, Dwele, and of course Slum Village). In the early 2000s, Dilla also began to focus on his own career as both a producer of beats and an MC. Welcome 2 Detroit (2001) for England's BBE label and the Official Instrumental Series Vol. 1 (2002) for Waajeed's Bling47 label, were turning points in this regard. The first album introduced Jay Dee as a visible personality and lyricist committed to Detroit's unique mixing of sounds to a global public while the second release cemented his control and competency in the production of soulful, off-centered beats.
Slum Village, without Jay Dee, put out the Dirty District compilation in 2002, featuring Black Milk, Phat Kat and Elzhi among others. Elzhi would join Slum Village to replace Jay Dee for Trinity—Past, Present and Future (2002), an album that finally featured a hit, "Tainted," which got video play and allowed for a world tour. Bipolar disorder though caught up with Baatin during this era and he left the group. According to an interview with writer Kahn Davison in 2007, Baatin has begun to release singles and plans on releasing full-length solo records after a bought with significant drug problems. Curtis "Black Milk" Cross helped produced Slum Village's Slum Village in 2005. Black Milk's stellar second full-length Popular Demand (Fat Beats 2007) featured a recovered Baatin reunited with T3 and Elzhi. Slum Village's most current DJ is named Dez, an artist who releases house tracks as Andres for the Detroit-based Mahogani Records and instrumental hip hop beats for Hipnotech Records, also in Detroit. Elzhi has recently collaborated with another local producer Nick Speed. The two Detroiters call themselves Libido Sounds and have written beats for national artists like G-Unit. Elzhi is also working on his own solo career having released the lyrically staggering The Preface (Fat Beats) in 2008.
Jay Dee's final records reinforced the two connected poles of his work. The instrumental Donuts (Stones Throw 2006), released days before his death and recorded while he was in the hospital, emphasized Dilla's commitment to soul sounds, while The Shining (BBE 2006) featured his own street-level lyrical talents. Ruff Draft, a record that Jay Dee had written and produced on cassette and vinyl in 2003, was re-released by Stones Throw after his death. The album was critically acclaimed. Kelly Carter's exceptional piece, "Jay Dee's Last Days," chronicles Yancey's struggles with Lupus (an inflammatory disease that affected almost every aspect of the artist's bodily life) and the hospital bills that the disease racked up, while staying committed to the creative process.
Proof
According to the notice of his death in the Detroit Free Press, Deshaun "Proof" Holton (October 2, 1973-April 11, 2006) was the "ambassador" of Detroit hip hop (Schmitt and Carter). There were few in Detroit's hip hop scene that he did not work with or befriend, from Jay Dee to Eminem. A long-time hip hop veteran, Proof's death in 2006 from a bouncer's gun in a nightclub on 8 Mile put a freeze on a solo career that had finally begun to take off in 2005 with is first full-length solo album. Proof made his local name in the scene as a regular at Maurice Malone's Rhythm Kitchen and eventually as the master of ceremonies at The Shelter and The Hip Hop Shop (see sidebar: The Hip Hop Shop and Saint Andrews). Though an off-again, on-again member of the local group 5ELA with Reginald "Mud" Moore and Bernard "Thyme" Russell (the group continued after Proof's exit in 1999), Proof's name will forever be tied to Eminem. Proof was a member of groups with Eminem beginning in 1995 and continued to record with the international star until the end of his life with D-12. On Eminem's world tours and TV performances, Proof was Eminem's not-so-straight man, hyping the crowd and providing a dynamic foil for Eminem's circus-like psychiatric verses.
When Maurice Malone started his own record label, Hostile Takeover Records, in 1999, he signed Proof. At that point he had been a recent freestyle champion as well as been recognized by The Source in its "unsigned hype" column. It would be Proof's long-time compatriot Eminem's success, though, that would bring national attention and commercial success for Proof. Proof, as part of D12 or Dirty Dozen, comprised of rappers Rufus "Bizarre" Johnson (also a member of the Outsidaz with Eminem), Ondre "Swift" Moore, Denaun "Kon Artis" Porter, and Von "Kuniva" Carlisle, made two records under Eminem's management, Devil's Night (2001) and World (2004) on Interscope/Aftermath. An earlier member, Karnail "Bugz" Pitts was killed before D12's major label moves. But Proof's first full-length solo efforts would not be on Eminem's Shady record label but instead on Iron Fist, a label that Proof co-founded with longtime friend and manager of one of Proof's earliest groups, 5ELA, black nationalist activist Khalid el-Hakim. The label released Proof's mixtape I Miss the Hip-Hop Shop (2004) and the sprawling, funny and funky album Searching for Jerry Garcia (2005). Earlier in 2002 on Promatic and then again on 8 Mile Chronicles (2005), Proof joined up with Kevin "Dogmatic" Bailey, an MC and Sicknotes production member who had been originally known as K-Stone. Dogmatic had released material with Bryant Records, the same label as AWOL and DMW in the early 1990s. It was not the only collaboration that Proof was engaged with at the end of his life—he was working both on a release with horrorcore act Twiztid and a black nationalist concept album about land ownership on his Iron Fist label—but it signals the depth of his connections in Detroit's scene and his importance in any understanding of how it emerged.
In April 2006, club-bouncer Mario Etheridge shot Proof to death at an after-hours club on 8 Mile. Etheridge contended that he shot Proof in self-defense after Proof supposedly shot and killed Keith Bender, Etheridge's cousin. Later, Mud, Proof's aforementioned band mate from 5ELA, accused Etheridge of killing both Proof and Bender. Etheridge was eventually convicted for carrying a concealed weapon but not charged with murder. A well written, emotionally charged, cover story for the Metro Times by Khary Turner, a friend of Proof's, shortly after the murders, asked a lot of hard questions about Proof and the scene that he knew so intimately. Attempting to reconcile the apparent cold-bloodedness of Proof's final moments with Proof's recent actions (he had quashed beefs with local rappers like Royce Da 5' 9") and words (he claimed that he wanted to be a better parent to his five children), Turner finished his piece saying, "Yes, I will remember Proof as the wonderful and conflicted person he was. But I will also ask why he couldn't exercise enough restraint to consider the moment. To consider tomorrow." (Turner, "What do we have to prove?")
Phat Kat
Despite the gloomy stereotypes, Detroit is peppered with middle-class homes and neighborhoods. However, if there is a depleted area of Detroit it is the lower East Side. Long abandoned by factories, the area became early territory for crack gangs like the Chambers Brothers in the mid-1980s when they would buy cheap houses and turn them into crack production facilities. This is the environment where Ronald "Phat Kat/Ronnie Cash" Watts is from. In a recent interview, he talked about his musical upbringing in Detroit. Watts went to Southeastern High School in the late 1980s at a time when the line between street economics fueled by the drug trade and trying to build a creative life as a DJ or MC was a difficult to walk. It wasn't until he moved to the calmer near West Side in 1991 that he was able to focus on a career in hip hop.
An audience member at "Fresh Fest" at a time when gold chains in the crowd from the ascendant drug economy were bigger than the chains on the artists on stage, Phat Kat remembered a time in Detroit when rap "was just something you did." Only later was hip hop became embraced as larger way of life. For Phat Kat, the turning point was the Rhythm Kitchen at Stanley's with Maurice Malone selling jeans at a table while an open mic session developed. However, there were pre-Rhythm Kitchen hints that Detroit's rap culture was evolving into something else with groups like AWOL and Detroit's Most Wanted cultivating a street-educated panache and braggadocio.
For Watts, these local inspirations interacted with national ones—rappers like Kurtis Blow, Big Daddy Kane, and Ice Cube —to inspire his lyrics. Sonically for Watts and his early beat-maker, Jay Dee, who he met at Stanley's in 1992, the main influence was from Detroit's 1980s radio mix, from Mojo's playing Kraftwerk alongside Michael Jackson and Prince to the bass heavy music of Miami's 2 Live Crew and MC Shy D played by The Wizard. Techno, too, was a major influence in his music. "I grew up on techno. My music is bass heavy and hard driven. There are a few songs on my new album that you can dance to."
Jay Dee and Phat Kat's early 1990s group, 1st Down, was ready to make an impression, which they did one day at Shantoniques Records on Detroit's East Side. Guru from the group Gang Starr was in the shop promoting the album Hard to Earn (1994) when Shantoniques' owner threw on the 1st Down tape for him. Guru gave Phat Kat a number to Payday Records in New York City, home to acts like Jeru the Damaja and, soon, Jay Z. Before Payday finally collapsed, 1st Down was able to release "Day with the Homies"/ "Front Street" in 1995, produced by Dilla under the moniker "Jon Doe." Although Payday's dissolution put the breaks on Phat Kat's career, he still made appearances on friends' records like Slum Village. The song "Dedication to the Suckers" (1999), produced by Jay Dee and put out by Mike "House Shoes" Buchanan with help from another local DJ, promoter and label head, Brian Gillespie, became another decisive point in Phat Kat's career. The three-song single is a tour de force and one of the finest moments in Jay Dee and Watts' careers; it confirmed Watts' credibility and created an underground buzz. In "Don't Nobody Care About Us," amidst cuts from Slum Village's DJ Dez and a synthesizer vamp from Jay Dee, Watts intoned the frustration within Detroit's long-simmering underground: "Nobody cares about us all they do is doubt us till we blow the spot then they all want to do is crowd us." The single was good enough to get Watts another major label deal—largely unsuccessful—this time with Virgin/UK. It would take until 2004 for a Phat Kat LP, Undeniable, to come out on Slum Village's own Barak label.
In 2007, Watts released Carte Blanche on San Francisco's Look Records. Produced by his long-time partner Jay Dee before his death, as well as younger producers Black Milk, Nick Speed and Young RJ, the album was mean, bass heavy, and spirited, with Phat Kat perhaps finally smelling some success. After almost fifteen years of underground recording it is well deserved. The album featured a re-release of the aforementioned "Don't Nobody Care About Us."
Eminem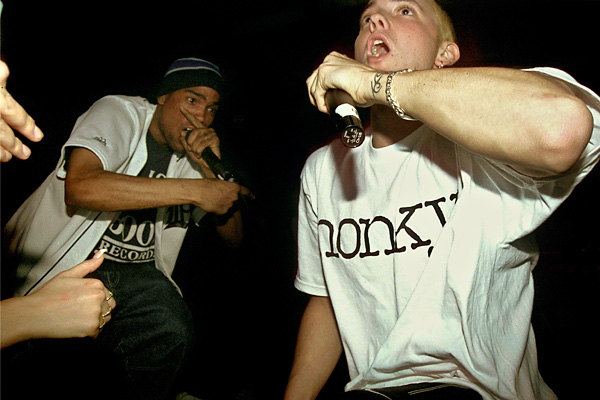 Marshall "Eminem/Slim Shady" Mathers III (born October 17, 1972) is the most important cultural icon to come out of Detroit since Madonna in the early 1980s. A number of biographies, like Bozza's Whatever You Say I Am, and documentaries, like Eminem AKA, have created a deluge of information about Eminem from the mid-1990s to his recent career hiatus in 2005. On a national and global level, Eminem's emergence radically shaped millennial debates about hip hop, (racial) authenticity, and its influence on youth culture.
Eminem's early life story—his troubled back-and-forth movements from Missouri to Detroit, his deadbeat Father, the struggle between his Mother and Grandmother for influence in his life, the suicide death of his Uncle Ronnie—has been fairly well documented. His early career, which at first seems fairly typical for Detroit, has not. Hungry, Eminem took lessons from all that he could learn from. According to a lengthy article by writer Brian Smith, Eminem was encouraged and brought along by the same extended Beast Crew that The Blackman had helped lead when Kid Rock had come into the picture. A few years later a young Eminem, attempting to make it in a predominantly black scene, needed coaching and connections. According to Smith, it came from people like Brian "Champtown" Harmon a member of that same crew. But a dispute over Eminem's girlfriend—that Champtown denies—led to the end of their friendship. (Smith, "Champ's Town") The upshot though, according to early Eminem manager Mark Kempf, was that it led to one of Eminem's earliest collaborations with Proof, a two-song cassette by a group called Soul Intent. The tape, which featured "M&M" on vocals and early music collaborators DJ Butterfingers and his brother Manix, featured two songs. The first was a lighting-quick "Biterphobia" while the second was a slower, more Eminem-like "Fuckin' Backstabber." The latter focussed on Champtown's supposed treachery and featured Proof rapping on the chorus.
Early beef and primitive cassette singles though were only part of Eminem's maturation. It was the The Hip Hop Shop and Eminem's relationship with Proof, made legendary by its fictionalization in 8 Mile, that encouraged M&M to change his name to Eminem and release his first full-length record Infinite (1996). But the album failed to break and the young rapper, now a young father, sought out local manager and Underground Soundz magazine promoter Mark Kempf for help. Hustling by Mark Kempf, along with Eminem's own maturing lyrical cleverness, finally led to national exposure in 1997 when Wendy Day, based on Kempf's urging, invited Eminem to take part in the Rap Olympics in Los Angeles. Kempf had gotten Eminem's demo tapes to Day and, eventually, to Interscope. The label, owned by Universal and run by Jimmy Iovine, had missed the chance at signing ICP before they inked contracts with Island Records. But Iovine was able to turn Dr. Dre on to Eminem. Dre made the call to Eminem. That's when, according to Kempf, he stopped receiving calls from Eminem.
"My Name Is," produced by ex-NWA rapper and producer Dr. Dre, and released on Interscope, made Eminem a star in a way that led to years of debates about Eminem and America's zeitgeist. Is he too violently explicit in his lyrics? Does he hate homosexuals? Does he hate women? Is he a bad influence? Can a white guy really understand hip hop? The payoff of these debates has been substantial for a number of interested parties, from Eminem to his label Interscope, his mentor Dr. Dre, and MTV, the station which eventually championed him. I.C.P. had quickly dropped off—at least compared to the millions of records sold by Eminem—and Kid Rock has only been able to cross over his one-time DJ now country-rock rapper Matthew "Uncle Kracker" Shafer in the ensuing years. Meanwhile, Eminem has been able to build his own career while also bringing up both new national artists like 50 Cent and local peers D12, Proof, and Obie Trice. Eminem's 8 Mile (2002) granted screen time to a handful of local MCs including Miz Korona, Strike (formerly of the local group Mountain Climbaz), and King Gordy. Other Detroit artists, like Royce Da 5' 9" have also profited from their association with Eminem. Royce worked on the song "Bad Meets Evil" (1999) an early single featuring both artists put out by the original founder of hip hop magazine The Source Jonathan Schechter for his Game Recordings. Despite squabbles with Proof and Bizarre of D-12 (quashed before Proof's death), Royce, born Ryan Montgomery, has released a number of LPs since Eminem's ascendance.
In 2003, Eminem became embroiled in a dispute about using racial slurs on a cassette tape from his early career, a situation brought forward by Raymond "Benzino" Scott, then of The Source. The complicated back-and-forth between The Source and Eminem has been succinctly summarized by S. Craig Watkins in his book Hip Hop Matters. Two years later, after five full-length albums, as well as two with D12, and a series of appearances with other artists like Dr. Dre, 50 Cent, Royce and Trick Trick, Eminem's career went on hiatus. Disturbingly, during his retreat, in 2006, his long-time friend and peer, Proof, was killed. The early chapters of Eminem's career are now over. The scene that birthed him has largely broken up, moved on, or passed on. Whatever the future brings it will be one largely built on a new world organic to Eminem's recent life as, perhaps, the most important pop star of his generation.
FUTURE OF DETROIT
Not everything has come up roses since the rise of Eminem and the cult-like reverence for producer and rapper J. Dilla. Stakes are high and local quarrels have turned deadly. The East Side Chedda Boyz were the subject of a deadly altercation at a downtown club in fall 2004, and Proof was murdered in the aforementioned confusing and potentially avoidable gun fight in 2006. These deaths in a scene not particularly known for its violence were not helped by Jay Dee's passing in 2006, a loss which brought down a local juggernaut and steady connection to the national hip hop underground. It is also still difficult, in an age of nationalized radio playlists, to get support for local rappers and producers, even for Dilla protégés like the aforementioned Black Milk and Phat Kat, or fellow Stones Throw label-mate Guilty Simpson. Things do not seem to have changed much since Spring 2001 when a group of local hip-hop artists protested local hip hop radio station WJLB with slogans like "When I asked to get played… I didn't expect to get played!" ("Detroit Hip Hop")
On the political front, in early 2008, only months after helping the NAACP bury the "N-Word" in a mock-funeral in downtown Detroit, Mayor Kwame Kilpatrick found himself in a tangle of negative local and national attention over claims of using city funds to quash evidence of an affair with his chief of staff, as well as arranging sweetheart city contracts for friends. The resulting scandal forced the Mayor from power and into jail adding another cloud to Detroit and Michigan's already gloomy economic struggles.
Despite these significant set backs to Detroit's larger hip hop community, Detroit's local scene is still poised to hum for years to come. On the production, distribution and marketing end is Ferndale-raised Mark Kempf's Long Range Distribution. The distributor keeps Detroit on the map with dozens of local releases, hundreds of catalogue records, and record sleeve designs. Along with Brian "Slim" Paul from Inkster and Twan Howard from Westland, Kempf also pushes a magazine, Ill Flow, to replace his first magazine, Underground Soundz, which he helped produce from 1990-1997. A local hip hop historian and, as related above, a former manager for Eminem's early career, Kempf has had critical role in Detroit's local scene.
)
On the artistic level there are also strong signs. Ann Arbor's Tadd "Dabrye" Mullinix released Two/Three (2006) on Ghostly International. It was a definitive release for the laptop expert and the many rap contributors from Detroit who made it on the album. The album's first single and most powerful song, "Game Over," featured Phat Kat and Jay Dee slapping down lyrics over organ-grinder synthesizer sounds and beautifully anachronistic hand claps. Other local MCs, including Guilty Simpson, Invincible, and Kadence, who is featured on a punk-rock timed dark-n-noisy "Encoded Flow," added to Jay Dee's blessings, made the project a watershed for local hip hop.
Another producer, who worked with Dabrye on Two/Three but whose career goes back into the 1990s, is Robert "Waajeed" O'Bryant. A boy-hood friend and collaborator with Jay Dee and Slum Village, Waajeed moved to New York in 2003 and formed the Platinum Pied Pipers with Darnell "Saadiq" Bolden. The group released its first album, Triple P (Bling47 2005) with vocals from Tiombe Lockhart and a guest appearance by Jay Dee. Waajeed's The War LP (2007) featured a number of artists from his label, including Invincible. A new PPP album entitled Abundance (Ubiquity) was released in early 2009. A promotional Youtube video documenting the creation of "On a Cloud," a song off the new album, features an engaging interview with Waajeed discussing his global travels—the video begins on a recent tour of Dubai in the United Arab Emirates—and the process of making soulful, Motown inspired music in the 21st century.
If labels like Ghostly and Bling47 and producer-hosts like Dabrye and Waajeed continue to represent Detroit, then the area is likely to continue to garner critical acclaim to accompany the major label successes made possible by Eminem. But these trailblazing artists have yet to crack local radio like some have. Stretch Money's smooth R&B/rap song "It Takes Money to Make Money" (2007) is good example of a particular sound making good locally. Representing, according to Stretch himself in the lyrics of the song, the "grimey" East Side as opposed to the "shiny" West Side, Stretch Money sold its records in local records stores, like Shantoniques, pushed its songs and videos on its Myspace page, and peppered the streets with mix CD samplers. The strong, grass roots, marketing push clearly helped but so did the rapper's sound. Acknowledging Detroit's long love affair with 1980s drum machines, Stretch's song features tinny drum machines and fluttering bass blasts. This sound has also made southern rappers like Young Jeezy successful in Detroit, a fact that has not been lost on other local artists, like Moody and K-Deezy, who also traffic in the danceable, pounding metallic sound.
The most encouraging sign for Detroit hip hop is the possibility of new local audiences and artists. There is a sizeable South Asian community in Detroit as well as a huge Hispanic and Arab populations, not to mention pockets of Vietnamese, Filipinos and many more. Perhaps an artist like the half-Mexican/half-Indian rapper from Southwest Detroit Kidd Skilly, who released the song "Bhanghra Chick" (2007), will remind outsiders that what Detroit is or is not is at best a moving target. Said Skilly to local writer Meghana Keshavan in the summer of 2007: "There's a gap in the music scene right now—and I think that the time's right to introduce a new type of hip hop."
)
"LANDMARKS" SIDEBARS
The Hip Hop Shop
The Hip Hop Shop (1993-1997), a permanent physical space on 15736 West 7 Mile Road started by Maurice Malone, was the center of Detroit's underground hip hop community during its golden age. In an interview Malone discussed the shop, Detroit hip hop, and his relationship to it. Malone was a long-time member of Detroit's post-Motown music scene since the early 1980s. He first started as a party promoter in high school within the nascent techno scene before discovering fashion design as a practical passion. In 1989 he started a members-only loft party called Underground Nation in downtown Detroit. An outgrowth of his fashion interests, the party featured techno and house music and inspired many in the early rave scene. But it was his early 1990s travels to New York and Brooklyn in order to push his line of jeans that changed his musical allegiances. There he connected with that city's hip hop culture, with artists like A Tribe Called Quest's Q-Tip and attending parties that looked and sounded like little he had seen in Detroit. The experience encouraged Malone to try to throw parties with rap performances back in Detroit.
By the fall of 1991 Malone was back in Detroit in order to bring what he had seen in NYC back with him. With a new partner, Tracey "Trac Bryd" Byrd, Malone started the Rhythm Kitchen. Though associated with Stanley's Chinese Restaurant, the Rhythm Kitchen was more of a production company than a physical space that would throw open mic parties and promote rap concerts, like Gang Star and Leaders of the New School, at bigger venues in town. At the open mics, Malone would DJ, this time as DJ Soul Finger, with an MC performance in the middle. It was these performances, many at Stanley's and later at The Hip Hop Shop, where the likes of Phat Kat met people like Jay Dee, Proof hosted battles with Eminem and local heroes Laswunzout featuring Loe Louis (then known as Lo-key) would bubble on the brink of success. Detroit's nascent hip hop scene, with Malone's forward thinking, had found a formula that was working.
The blueprint for the shop was the sale of Malone's jeans and other hip hop culture specific commodities with open mic battles on Saturday afternoons. B-Boy's danced in the shop, while on Saturday evenings from 5-7 PM rap battles raged overseen by long-time employee Proof. Shoppers came from everywhere since the shop was, according to Malone unique in the entire world in the early 1990s. It was wholly dedicated to hip hop culture, a place where visitors could hang out with MCs, buy hip hop fashion, and talk about hip hop culture, as well as battle your way to a Hip Hop Shop t-shirt (and bragging rights). To illustrate the point, Wu Tang Clan came by just to check the store and liked it so much they were willing to play a concert for free. Malone set up the show at the Music Institute space on Broadway downtown, a space that had been central to the height of the techno scene. The Shop had made it possible. Tags from all over the world filled the dressing room walls and everyone who was there who is still making music cites it as an influence.
Malone closed The Hip Hop Shop and went back to New York City in 1997. Much to Malone's chagrin, a shop with the same name opened in 2005 under different management but has since closed. Over the years, other venues, like the Wired Frog in Eastpointe, and even Proof's Fight Club nights held downtown near his Iron Fist offices attempted to take over the open mic scene after the Shop's closing. A lone video of Eminem and Proof at The Hip Hop Shop now sits on Maurice Malone's "Hip Hop Shop by Maurice Malone" Web site copyrighted in 2004, a placeholder for Malone's plans for reopening The Hip Hop Shop as a world-wide franchise.
Saint Andrew's Hall
It is difficult to talk about post-Motown Detroit music, from techno and hip hop to garage rock, without talking about Saint Andrew's Hall. Though the Rhythm Kitchen shows and The Hip Hop Shop cemented an underground following—a movement of back-packing hip hop fans more concerned with local MC battles than national deals—it was Saint Andrews' "Three Floors of Fun," inspired by Maurice Malone in the mid-1990s, that crossed the scene over to a larger, whiter suburban audience that could expand their personal tastes by moving up and down the club's stairs.
Malone's adventure with the venue started in the fall of 1993 when Amir Daiza's Ritual Promotion company allowed Malone to program events in the basement space of Saint Andrew's called The Shelter on Monday nights. The Shelter itself had already become an underground dance spot in the late 1980s and early 1990s, crossing alternative and industrial music with acid house, rap, and techno records with DJs like Scott "Go-Go" Gordon and later, Richie "Plastikman" Hawtin. But it was Malone's events, with rap performances at the peak of the party, that brought a solidly hip hop audience to the venue. The night was quickly a success. Within a year though Malone was told that security was afraid of his crowd and the night was discontinued—only to open a month later with other promoters. According to Malone, Daiza had taken the concept and cut out the middleman. Malone moved his parties nearby to a space on Broadway but soon came back to rent out all three floors of the venue for bigger parties—like Leaders of the New School—that were too big for the Shelter alone.
These "Three Floors of Fun" events took on a life of their own as Daiza saw their profitability. Moved to Saturday nights, "Three Floors of Fun" helped Detroit hip hop find its broader audience, where suburban kids could mix across races and sounds, and bob their heads to DJs like Hip Hop Shop regular Mike "House Shoes" Buchanan. Now a DJ in Los Angeles, Shoes is an evangelist for Detroit rap with his shows and Podcasts, and his sermons began on 431 East Congress on the outskirts of Greektown in downtown Detroit. A Saint Andrew's resident for ten years starting in 1994, Buchanan was and is a savvy hip hop populist, demanding that his crowds sing along to tracks. At the same time, he would break-corporate 12" records in the faces of label representatives. The night sputtered out though shortly after the Eminem revolution. Now controlled and booked largely by Live Nation (formerly Clear Channel), Saint Andrew's is still a good place to see Detroit music, from rock to hip hop.
Spectacles
With Maurice Malone long-gone from the Detroit scene, the best place to dip into Detroit's blend of urban culture and style is at the place where Malone debuted his merchandise before The Hip Hop Shop ever existed: Spectacles. Located on 230 East Grand River in a downtown shopping area called Harmonie Park, Spectacles features up-to-date street fashion and accessories from across the country and in Detroit, as well as music, magazines and books. In other words, it's the perfect place to buy an outfit for Saturday night as well as buy copies of Donald Goines' books. The store's owner, and former business manager for Malone, Zana Smith, has been involved in small businesses in Detroit since the 1970s, eventually becoming a club promoter that worked with proto-techno DJs after the fall of disco in the late 1970s. As a sign of her long-standing reputation in this area, the last time Jeff "The Wizard" Mills came "home" to play Detroit in 2008 it was at a show promoted by Smith. Smith was also critically involved in the Detroit's nascent poetry scene in the early 1990s. Inspired by the New York poetry scene, local poets and emcees had begun to recite their poetry and verses when they came into Smith's shop which led her to start a Tuesday night event at the recently opened Pour' Me Café downtown in 1994. What started as an off-night experiment became the venue's strongest night and another spark for the local scene.
After a falling out with the cafe, Smith moved the night to Carl and Cyrus Shaw's Café Mahogany where it ran for approximately three years under her guidance. These years saw artists like Proof, Black Thought, Common, Jay Dee, Dwele, and many others hone and show off their emerging skills in a vibrant scene that complimented what was going on at venues like The Hip Hop Shop. After Smith left the night it continued, this time under the direction of Girard Ivory, DJ Carl "The Invisible Man" and Fluent, until the venue closed shortly after getting a liquor license in the late 1990s. Dwele's song, "Lady of Mahogany," off of Subject (Virgin, 2003), pays tribute to the venue ("While she's getting' the soda, I'm gonna slide to the sofa and proceed to kick monopoly to lady of Mahogany.") The poetry scene's inspiration can be found in the more conscious moments of Mahogany-regulars Slum Village's work as well. The musicians from Mahogany's later years—a group that includes rapper and freelance writer Khary Turner—would go on to form The Black Bottom Collective. Smith, like she has since 1984, continues to throw parties and invite producers, DJs, poets, scene members and even tourists to interact under the elevated ceiling of her store.
8 Mile
The broad media perception of 8 Mile is hard to balance with the local experience of the street's economic, racial, and visual diversity. How, for instance to balance Dogmatic's "8 Mile Road" from 8 Mile Chronicles (2005), where the long-time MC mentions the 8 Mile Skoneys, one of Detroit's many '80s era gangs, and fallen friends, with the impression of middle-class normality of many 8 Mile neighborhoods? The answer is not to choose. One can see middle-class neighborhoods (especially west of Woodward Avenue, the arbitrary border between Detroit's East and West Sides), and abandoned buildings, strip clubs that neighborhoods wish were not next door and old jazz clubs that should probably be on the nationally historic register, all within one car ride.
The survey line for the Northwestern Territory in 1787 (8 Mile's other name is "Base Line Road" because of this connection), the road is legally and symbolically that border that separates Detroit from its northern neighbors. It also connects the glorious old-money environs of Grosse Pointe at the end of the road to the east, to the World War II-era plants on the street's north side in Warren, to the Cold War era malls of the street's west side in Southfield. Driving and stopping along 8 Mile's length, more than wallowing in its televisual image, presents a strong argument for the street as not merely a door to understand Detroit but also to understand America in the 20th century. The danger though is to believe in the surfaces that slide by the car window, something that recent media and even local attentions have fallen prey to. Proof was killed in a club on East 8 Mile in the spring of 2006, a tragedy that did not encourage nuanced evaluations of 8 Mile's reputation. More recently, according to Rodd Monts, the road has gone through a number of surface improvements due to the help of the Eight Mile Boulevard Association (EMBA). 8 Mile—as well as greater Detroit—is neither merely saint nor sinner. How to reflect beyond good and evil? Get in your car… but roll down the window.
Ghettotech
During the late 1990s it was the Detroit mass's commitment to DJs and dance music exemplified in the ghettotech genre that made for true crossover musical excitement in the mid-1990s. A resurgence in the electro dance sound manipulated by a generation of DJs and producers raised on The Wizard but no longer forced to compete with him, ghettotech or booty music integrated cutting edge electronic music—from drum & bass to local Detroit techno—with dirty, bass-heavy homemade 12" records. According to ghetto-tech scholar Gavin Mueller, producers like Craig "DJ Assault" Adams and Ade "Mr. De" Mainor created tracks like "Ass 'n' Titties" to be played and manipulated by a series of local new Wizards in local clubs and various radio stations across the FM dial. The only authenticity these booty-mixing soldiers—Wax-Tax-N-Dre, Don Q, Fingers, Zap, and Gary Chandler just to name a few—were interested in was outdoing each other and propelling crowds to dance. The result was that weekend nights in the mid-1990s on Detroit radio—and at radio-sponsored club nights—were venues for a tongue-in-cheek, sex-crazed musical genre that spoke across 8 Mile. Local record labels sprouted up to provide product, with Adams' and Mainor's Assault Rifle/ Electrofunk label setting a high standard for low-down dirtiness. Two suburban labels also broke through with the sound. Brian Gillespie, Brian "DJ Godfather" Jeffries, and DJ Dick's Twilight 76 took off by remixing Miami Bass records before producing their own, Detroit-style versions. Twilight 76 sold records like hot-cakes at local record stores. The short-lived, suburban Intuit-Solar also brought forth a DJ Assault LP, Jefferson Ave., in 2001.
Few artists from this intensely Detroit-styled scene were able to crossover their local prowess into national success. There have been a few exceptions. "Ass 'n' Titties" for one has become such a global hit that it was mentioned by the lead character in Gary Shentgart's best-selling novel Absurdistan (2006). Another sign is that a Japanese company produced one of the few documentaries about the scene, The Godfather Chronicles. There was also the momentary success of the Detroit Grand Pubah's "Sandwhiches," an underground electro-booty pop hit ("You can be the bun I can be the burger girl we can make sandwiches.") that eventually garnered the at the time two-man group—Andy Toth and Paris the Black Fu—a date on England's "Top of the Pops." The record was locally produced by Brian Gillespie's Throw label and distributed by Twilight 76 before being picked up by the New York based Jive Electro. Another ghettotech artist, area native David "Disco D." Shayman, produced the song "Ski Mask Way" off of 50 Cent's The Massacre (2005). Ann Arbor-raised Shayman, who died in 2007, coined the term ghettotech, and was one of the few artists in the scene to crossover his rep as a booty DJ and producer into rap music production.
SELECTED DISCOGRAPHY
Detroit's Most Wanted:
Tricks of the Trades, Vol. 2,: The Money is Made. Bryant Records, 1992.
Boss:
Born Gangstaz. Def Jam, 2003.
Dabrye:
Two/Three. Ghostly International, 2006.
D-12:
Devil's Night. Interscope, 2001.
DJ Assault:
Straight Up Detroit Sh*t: Vol. 1. Electrofunk, 1996.
)
Elzhi:
The Preface. Fat Beats, 2008.
Eminem:
The Slim Shady LP. Aftermath/Interscope, 1999.
Esham:
Boomin Words From Hell. Reel Life Productions, 1990.
I.C.P.
Jugganauts: The Best of ICP. Universal, 2007.
Invincible:
Shapeshifters. Bling47, 2008.
Jay Dee:
Welcome to Detroit. BBE, 2001.
Donuts. Stones Throw, 2006.
Kaos & Mystro:
Outcast Volume 1. World One Records, 1990.
Kid Rock:
Grits Sandwiches For Breakfast. Zombie, 1990.
The History of Rock. Atlantic, 2000.
Phat Kat:
"Dedication to the Suckers." House Shoes Recordings, 1999.
Carte Blanche. Look Records, 2007.
Proof:
Searching for Jerry Garcia. Iron Fist, 2005.
Slum Village:
Fan-tas-tic Vol. 1. Donut Boy Recordings, 1996.
Waajeed:
The War LP. Bling47, 2007.
WORKS CITED
Adler, William M. Land of Opportunity. New York: Plume, 1996.
Birchmeier, Jason. "Esham." All Music Guide to Hip-Hop. Backbeat Books: San Francisco, 2003. 160-163.
Birchmeier, Jason. "MC Breed." All Music Guide to Hip-Hop. Backbeat Books: San Francisco, 2003. 312-314.
"Black Milk." Black Milk. 11 July 2008. <http://myspace.com/blackmk>.
bling47group. "PPP Abundance Vol. 2: "ON A CLOUD" w/ Karma Stewart." 3 July 2008. 13 July 2008. <http://www.youtube.com/watch?v=CQ-2-fcVnmo>.
Bozza, Anthony. Whatever You Say I Am: The Life and Times of Eminem. New York: Crown Publishers, 2003.
Brent, Teferi (DonRico) "Kaos." Personal interview. 14 Feb. 2008.
Bunkley, Nick. "Mayor's Amorous Texts Lead to Perjury Inquiry." New York Times. January 26, 2008.
Caramanica, Jon. "MC Breed, 37, Rapper with Midwest Roots, Is Dead." New York Times. November 26, 2008.
Carter, Kelly L. "Jay Dee's last days: The untold story of the noted Detroit hip-hop producer's drive to make music in the face of life-threatening illness." Detroit Free Press, February 23, 2006.
Case, Wendy. "Joker's wild: Esham, the father of acid rap, still sounds hungry." Metro Times. February 8, 2008.
Castelnero, Gordon. TV Land Detroit. Ann Arbor: University of Michigan Press, 2006.
Cooper, Barry Michael. "Motor City Break-down." Village Voice. December 1, 1987.
Cunningham, Jonathan. "Final moments and nagging questions: A 'normal night' that exploded in violence." Metro Times. April 19, 2006.
Detroit vs. Chicago: Jit vs Juke. Hardcore Detroit, 2007.
Davison, Kahn. "Lean and sober: Baatin comes clean about Slum Village, mental rehab and getting off crack." Metro Times. February 7, 2007.
Davison, Kahn. "Life beyond Proof: The rise and fall and rise of 5ELA." Metro Times. May 19, 2004.
Davison, Kahn. "New days bang: Onetime Detroit hip-hop star Nikki D is now an established poet and a sexual therapist. Who would've thought?" Metro Times. March 9, 2005.
Davison, Kahn. "On solid ground: Proof's Iron Fist label stays inspired and committed with new release." Metro Times. April 26, 2006.
Detroit Hip Hop. "A Look Back: FM 98 Protest Pictures." 13 July 2008. http://detroithiphop.net/2007/04/02/a-look-back-fm-98-wjlb-protest-pictures/.
Donnie's Story: The Life of Donald Goines. Dir. Kevin Williams. Maddmen, 2005.
Dunham, Deanna. "Jit' On… Detroit's Legacy Dance Represents!"? Hardcore Detroit, 2005. 13 July 2008. <http://www.hardcoredetroit.biz/jit/jit.html>.
Echlin, Hobey. Behind the Paint. Psychopathic, 2003.
"Elzhi." Elzhi. 11 July 2008. http://myspace.com/zhifi.
Eminem AKA. Dir. Mike Corbera. Narrated by Anthony "Treach" Criss. Xenon Pictures, 2004.
Frazier, Kelly "K-Fresh" and Tate McBroom. "Jay Dee." Real Detroit Weekly. February 22, 2006.
Frazier, Kelly "K-Fresh." "Breakin' Records." Real Detroit Weekly. January 4, 2006.
Gavrilovich, Peter and Bill McGraw, editors. The Detroit Almanac: 300 Years of Life in the Motor City. Detroit: Detroit Free Press, 2000.
Gholz, Carleton S. "From Detroit to Tokyo: How DJ Jeff Mills helped shape not just a music scene, but an international culture." Metro Times. May 23, 2007.
Harris, James "The Blackman." Personal interview. 27 Dec. 2007.
Hess, Mickey. "Hip-hop Realness and the White Performer." Critical Studies in Media Communication 22.5 (2005): 372-389.
"Hip Hop Ministry." The Yunion Project. 9 July 2008. http://www.theyunion.com.
"Invincible." Bling47. 9 July 2008 <http://www.bling47.com>.
"Invincible." 9 July 2008 <http://myspace.com/invincilana>.
Kempf, Mark. Personal interview. 1 Jun. 2008.
Keshavan, Meghana. "Bollywood Nights: A generation of South Asians a new cultural mix." Metro Times, August 22, 2007.
"Kori Blake." 8 July 2008. <http://myspace.com/koriblake>.
Lipsitz, George. Footsteps in the Dark: The Hidden Histories of Popular Music. Minneapolis: University of Minnesota Press, 2007.
Malone, Maurice. Personal interview. 22 Aug. 2007.
Matthews, Adam. "Death of Disco." Village Voice. August 1, 2007.
McCleod, Rodd. "The Wicket World of Natas." Rollingstone.com. 2 March 2000. 13 July 2008.
Merchants of Cool. Dir. Barack Goodman. Correspondent Douglas Rushkoff. PBS Home Video, 2001.
"Miz Korona." 9 July 2008. <http://myspace.com/1mizkorona>.
Monts, Rodd. "8 Mile Opportunity." Model D. September 4, 2007.
Moss, Corey. "Jay Dee: Hip-Hop's Shy Giant." MTV.com. 2007.
"Ms. Smiley." 9 July 2008. <http://www.myspace.com/lynettemichaels>.
Mueller, Gavin. "Ghettotech: The Bluffer's Guide." Stylus Magazine. August 28, 2007.
Neal, Mark Anthony. "Rhythm and Bullshit?: The Slow Decline of R&B." Pop Matters. 13 June 2005.
Newtroit. Newtroit Records. 3 December 2007. <http://newtroitrecords.com>
Rose, Tricia. Black Noise. Wesleyan University Press, 1994.
Serpick, Evan. "Murder on Eight Mile: R.I.P. Proof." Rolling Stone. April 17, 2006.
Schmitt, Ben and Kelly L. Carter. "D12 rapper Proof killed in shooting in afterhours nightclub." Detroit Free Press, April 11, 2006.
Sicko, Dan. Techno Rebels: The Renegades of Electro Funk. New York: Billboard Books, 1999.
Smith, Brian. "Champ's town: Rap maestro and the link to Esham, Kid and Em.'" Metro Times. December 15, 2004.
Smith, Brian. "Invincibility." Metro Times. August 6, 2008.
Smith, Brian. "Same as the old Boss." Metro Times. June 16, 2004.
Smith, Zana. Personal interview. 15 Feb. 2008.
Stone, Jim. Personal interview. 13 Jul. 2008.
Turner, Khary Kimani. Personal interview. 28 Dec. 2007.
Turner, Khary Kimani. "D-town volcano: Local label erupts on the strength of rising star Stretch Money, even with its CEO in the clink." Metro Times, June 27, 2007.
Turner, Khary Kimani. "Murder Rap: Three shootings and two deaths send shocks through Detroit's rap world. What did they have to do with the music?" Metro Times, October 6, 2004.
Turner, Khary Kimani. "People's champion: Esteemed Motor City rapper Big Herk probes shut-off notices, roaches and the needs of the streets." Metro Times, March 3, 2004.
Turner, Khary Kimani. "Still wanted? Detroit's Most Wanted founder on D-Town rap, DMW and Jackie Wilson." Metro Times. May 24, 2006.
Turner, Khary Kimani. "Sun Messenger: Miz Korona shines through the hype and distractions." Metro Times, March 6, 2002.
Turner, Khary Kimani. "What do we have to prove?: Trying to make sense of the tragedy." Metro Times. April 19, 2006.
Turner, Khary Kimani. "You don't want none of this: Death and disrespect haven't stopped Detroit hip-hop legends A.W.O.L. But who's listening?" Metro Times. February 12, 2003.
Umile, Dominic. "Phat, black and cyclical." Metro Times, March 28, 2007.
Valk, David. "The streets are alive: Waajeed's beats buff Detroit's 'beautiful ugly.'" Metro Times, August 20, 2003.
Warren, Tamara. "The Death of Proof: Bare Witness." XXL. October 2, 2006.
Wasacz, Walter. "About Face: The biggest names in the underground belong to Dabrye." Urb. June 2006. 84-86.
Watkins, S. Craig. Hip Hop Matters: Politics, Pop Culture, and the Struggle for the Soul of a Movement. Boston: Beacon Press, 2005.
Watson, Ursula. "J Dilla, K-Deezy triple winners at Detroit Hip Hop Awards." The Detroit News, Tuesday, August 14, 2007.
Watts, Ronald "Phat Kat." Personal interview. 1 Nov. 2007.
FURTHER RESOURCES
Detroit Electronic Quarterly (https://detroiteq.com/)
dETROITfUNK (http://detroitfunk.com)
DetroitRap.com (http://detroitrap.com)
Hardcore Detroit (http://hardcoredetroit.biz/)
Kelly Frazier (http://kelly-frazier.com/)
Long Range Distribution (http://www.longrangedistribution.com/),
Renaissance Soul Detroit (http://rensoul.com)